Will you give to sustain our power as a grassroots force of change supporting equity, justice, and repair in the cannabis industry?
Support Equity First projects like National Expungement Week and our continued advocacy for an equitable, just, and reparative cannabis industry.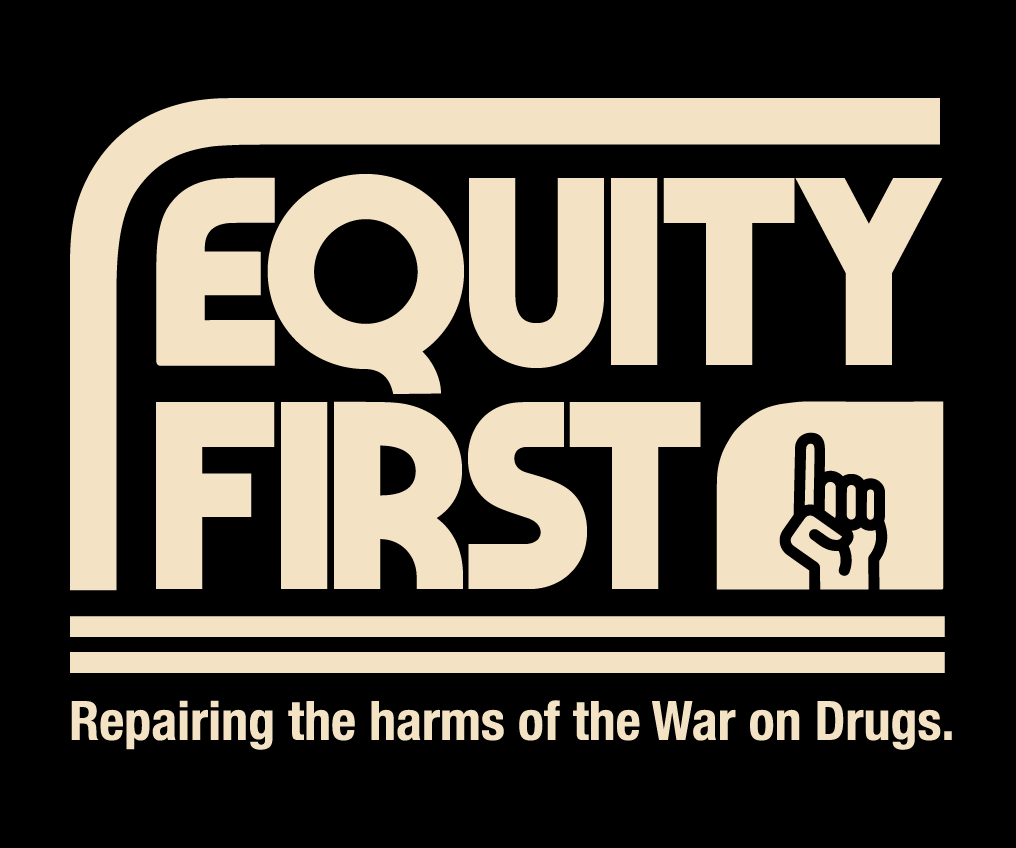 WE ARE ADVOCATING FOR:
Earmarking of cannabis tax revenue for communities directly and disproportionately impacted by cannabis prohibition (as indicated by Proposition 64 in California and various equity policies nationwide).
Community-based organizations to receive the bulk of that tax revenue, in proportion to that impact.
Job training, worker protections, healthcare, living wages, unionization, worker-owned businesses, and other business development programs in the primary and ancillary cannabis industries.
Social Equity Programs at local, state, and federal levels that offer prioritized licensing, business assistance, and mentorship to people who have been directly impacted by cannabis prohibition.
Annual audits of Social Equity Programs to ensure that they are benefiting equity applicants and not exposing them to predatory relationships.
Annual tracking and reporting of cannabis arrests, infractions, and other forms of enforcement.
Education for communities of color about the health, wellness, and economic impacts of the cannabis plant and the cannabis industry.
Corporate social responsibility requirements for businesses that profit off of the cannabis industry.
Automatic expungement, post-conviction relief, and other aspects of criminal justice and policing reform.
Emergency assistance for small farmers of color.
Research and Development facilities that are POC-focused and POC-led, which fight the stigma and perception in communities of color.
Access to jobs and ownership in the cannabis industry for all individuals seeking cannabis, regardless of prior criminal convictions.
Affordable and/or subsidized cannabis medicine for low-income patients.
Donate via Credit Card or eCheck
Is my donation and credit card info secure?
Yes, the security and confidentiality of your information is our highest priority. We will not sell, trade or share your personal information with anyone else, nor send donor mailings on behalf of other organizations, and we will only share personal information if you have given us specific permission to do so.
Is my donation tax deductible?
Yes, we are a fiscally sponsored project of Social Good Fund, which is a public 501c3 organization recognized by the IRS. Your donation is tax-deductible to the fullest extent permissible by law.
How do I know that my donation was made successfully?
You will receive an emailed receipt immediately after your donation is submitted and your credit card is processed. Your donation will also show up on your bank or card statement within 1-3 business days.
Do I get a receipt?
Yes, a receipt is sent to your email inbox once your donation is processed. Please be sure to keep a copy of your receipt for tax purposes. If you select a recurring donation, you will be sent an individual receipt each period when your donation is processed.
Is my donation private?
We will not share or sell a donor's personal information with anyone else, nor send donor mailings on behalf of other organizations.